by Octavio Salvado.
I am ruled by the God of War.
At least that's what Vedic Astrology suggests. In Hinduism, Mars is called Mangal and is seen as the planet responsible for the sheer, raw energy that powers our actions. Unfortunately for me however, Mars represents the specific actions we perform that have no reasoning behind them, our animal instincts and often 'poorly thought out' reactions.
Hindu's also associate the planet Mars with all inflammable products.
I can relate.
Lord Murugan, second son of Shiva is the major deity associated with Mars, Lord of the Celestial Army, God of War. I feel him in my blood.
So when I learned that the neighbor was building a 2 level, 15 meter high, brick shit-house… I mean home-stay basically right on top of us, my initial reaction was to go over there and punch him in the face. Namaste.
I simmered down after a few minutes (ok days) and my next thought was to build a 30m high statue of Lord Murugan with the tip of his spear pointing at the back of my neighbor's building. I mentally designed the whole thing, complete with a very elegant peacock-shaped water fountain to drown out the construction noise and surely get a few extra likes on Instagram.
Hindu Gods always have a vehicle. When I first learned of Murugan's, I have to come clean that I was not very impressed, in fact I felt embarrassed for him. There was Shiva, good-old Dad riding a giant white bull, the symbol of virility while little Murugan was left trotting around on his shiny, green bird.
But here's the thing about India, you have to dig a little deeper than the periphery. What you see is not always what you get. Quite often it's the crooked, hunched over, old man serving chai that gives you the download that will change your destiny.
So in the case of Murugan, I knew I had to keep my 3 eyes open and take a deeper look.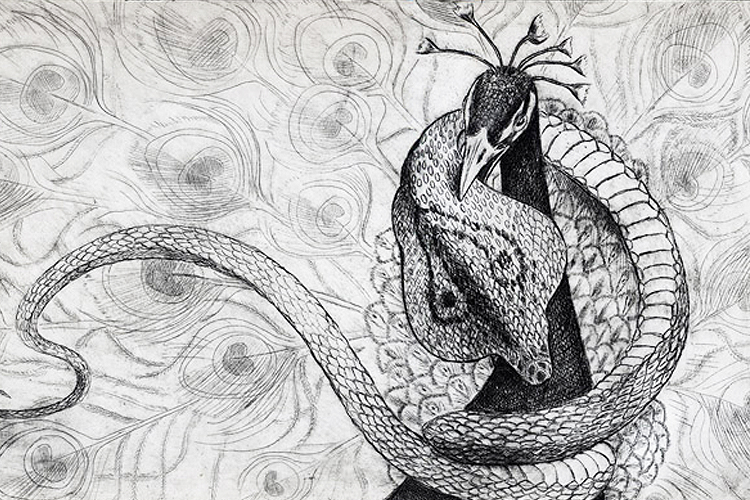 In the Yogic tradition the Peacock symbolizes our own capacity to inwardly alchemize poison into nourishment, like the peacock does with the venom of the Cobra. In this way, the combination of Murugan and his prissy, yet very powerful bird present us with a choice. No, it's not the choice of fight or don't fight. As the Bhagavad Gita assures us, life is a battlefield, hiding and shrinking away from living a life of meaning is not an option.
Backing out of the confrontation is not the choice. We can't control life. Believe me, I've tried. She's relentless! And she knows that it's her duty to prod us, lovingly (sometimes) and gift us the opportunity to sharpen our tools. No, the choice is about how we manage ourselves in moments of confrontation and more interestingly, in times of outward defeat. Can we alchemize the situation so that it becomes nourishment?
Do we lay down and die. Or do we transmute adversity into excellence, into wisdom, into humility, growth and compassion?
The struggle 'is' the nourishment, it's built in. Every obstacle presents the opportunity to refine our authenticity, to deepen our Yoga and become more of who we truly are.
So at The Practice, that's exactly what we're doing. Alchemizing. In October we will be smashing down some walls (I think I'll help Kadek with that one) in order to reposition the studio to the East. Honestly, this is where it should have been facing all along, the direction of the rising Sun. The direction of self-accountability and taking responsibility for the choices we make. East is the direction of Yoga.
The construction next door typically starts around 830am, which pokes me in my edgy bits a little but again, there's genuine nourishment in it. As of next month we will begin greeting the rising sun in the East and hour earlier. Practice will begin at 7am. This is a truly supreme time to practice. Catching the morning light, taking it deep inside and using it to consciously create the day ahead. Life is refining our authenticity.
The Practice, I have to say is a pretty strong battalion. Not because outwardly we always get what we want, but because internally we know how to alchemize, we know how to ride the Peacock. We're ready for everything. Alchemical Engineers. Smashing down walls to build bigger dreams.
Lets see, we still might build that 30 meter statue of the God of War, but at least the urge to punch my neighbor in the face is gone.
AUM NAMAH SHIVAYA. AUM SHARAVANA BHAVA. AUM.