by Octavio Salvado.
I'm not sure when we stopped singing in circles or why we moved away from celebrating music for its potential to purify our minds. The ancients knew about it – the pure power of sound. They believed that beyond the Maya – the illusion of matter, everything was sound, even ourselves.
After practicing Yoga for 15 years with an enthusiasm that occasionally borderlined obsession, i can tell you that the bulk of my deepest experiences have bloomed up from the fertile garden-bed of wild, unrefined devotional music circles known as 'Kirtan' or 'Bhajan'.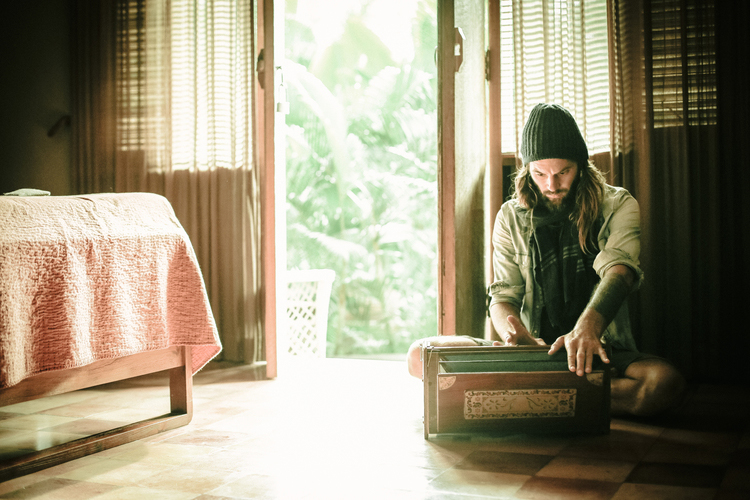 Kirtan is a meeting place for our raw, vulnerable hearts and often shaky voices and because of that, because of the very transparent contextual field it creates, real Yoga, which is Union, flourishes. I have never been to a kirtan that didn't leave me feeling more positive about life.
I remember a time, sitting in the Indian dust for hours as music poured simultaneously into and out of me. Harmoniums droning. Bells, drums and sweaty palms banging like heartbeats. Rough and devoted voices melding. I was a rookie back then. I had no idea about Shiva or Krishna, but the mantras hit me like lightening and left me completely unable to contain my tears of longing and joy or control my body that shook like a thundercloud.
That inner storm lasted for weeks. Pulsing in and out of what must have looked like madness to someone unable to feel the melodies of clarity and love streaming through my body.
Sometimes I wonder if the only difference between mental breakdown and spiritual insight…. Is geography? In India if someone hears voices in their head, sees visions or shakes uncontrolably, the first trip is to the temple, not the nuthouse.
Perhaps that's what scares us about Kirtan? The fact that we don't yet have a society that undrstands or supports awakening. And Kirtan can do that. Music can do that – Wake us up. These bodies are built for awakening, designed for it, encoded with the unavoidable inevitability of going mad…. With love.
Music is the ON switch.
And that is why the simple act of singing together with intentionality is so powerful. In that space we are held and supported regardless of our stories, the quality of our voice, our name, our beliefs, the way we dress, how much money we earn, how we spend our nights. None of that matters and in that kind of freedom, awakening naturally springs up from the underground and teaches us something that book knowledge never could.
The one unmistakable truth resounding from the teachings of all the ancient Sages – that we are all in this together, and furthermore that each of us has the potential to truly meet ourselves and each other in our purest form, beyond the flesh, as pure, divinely inspired music.
"What makes us feel drawn to music is that our whole being is music: our mind and body, the nature in which we live, the nature which has made us, all that is beneath and around us, it is all music." 

– Hazrat Inyat Khan (Sufi Master 1882-1927)