IN STUDIO WORKSHOPS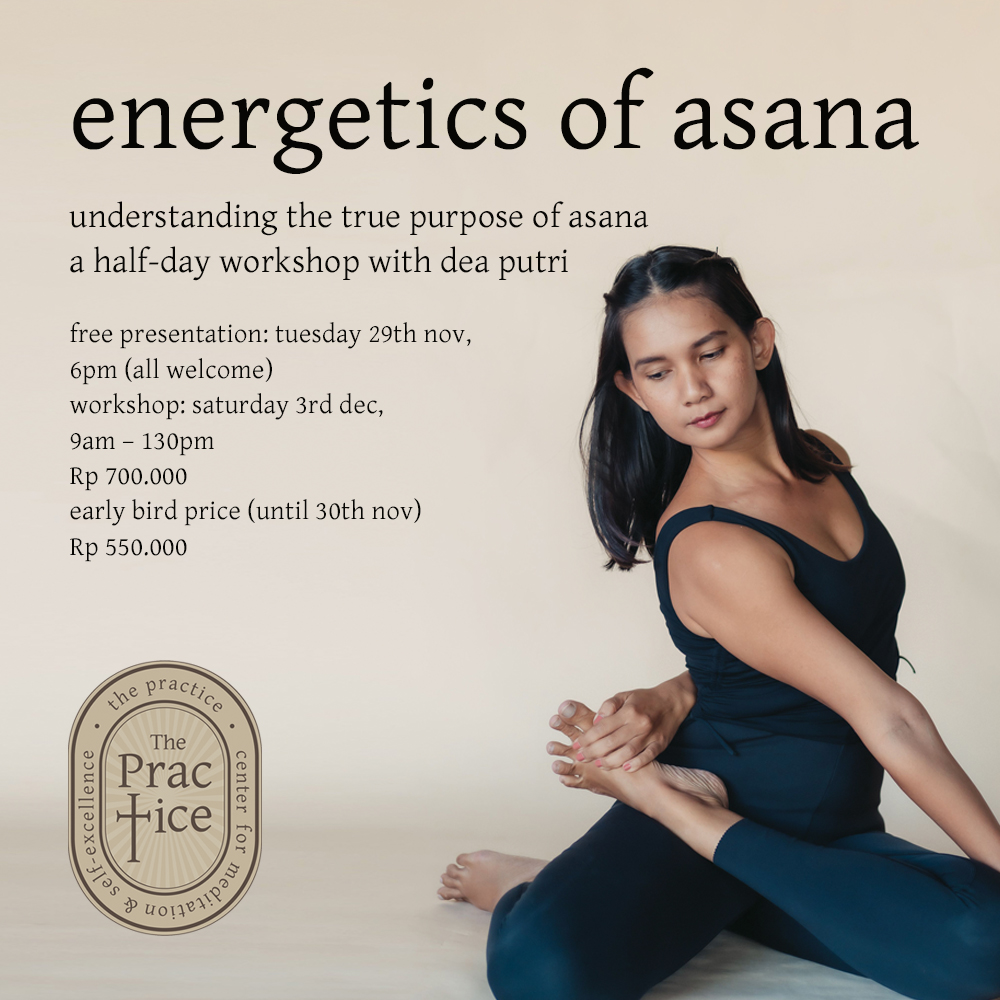 ENERGETIC OF ASANA
UNDERSTANDING THE TRUE PURPOSE OF ASANA. A HALF-DAY WORKSHOP WITH DEA PUTRI
SATURDAY 3rd DEC 9am – 130pm
Rp 700,000 Early Bird up to 30rd Nov Rp 550,000
Mastering Asana is not about perfecting shape, it's about understanding how the postures impact us on an energetic level. Hatha Yoga is ALL ABOUT energy. It is considered the science of 'Energy Management and Mastery' and the first stage of this journey is ASANA. Join Dea for an exploration into the myths and misunderstanding about Asana in modern Yoga and how we can use Asana to access and shape our subtle energetic systems and from there, shape our perception and experience of the reality we live in.
TOPICS EXPLORED:
The overall aim of Hatha Yoga and how it relates to higher practices, such as Raja Yoga Meditation.
What does a 'complete practice' look like? Creating the perfect practice and the role that Asana plays.
Understanding the 2 key functions of Asana, from both the Yogic and Tantric perspective.
Exploring the different aspects of the subtle body that Asana impacts, including the nervous system, Prana Vayus, Gunas and Doshas.
Experiential Asana break-down workshop to 'feel' and experience the energetics of different postural categories.
---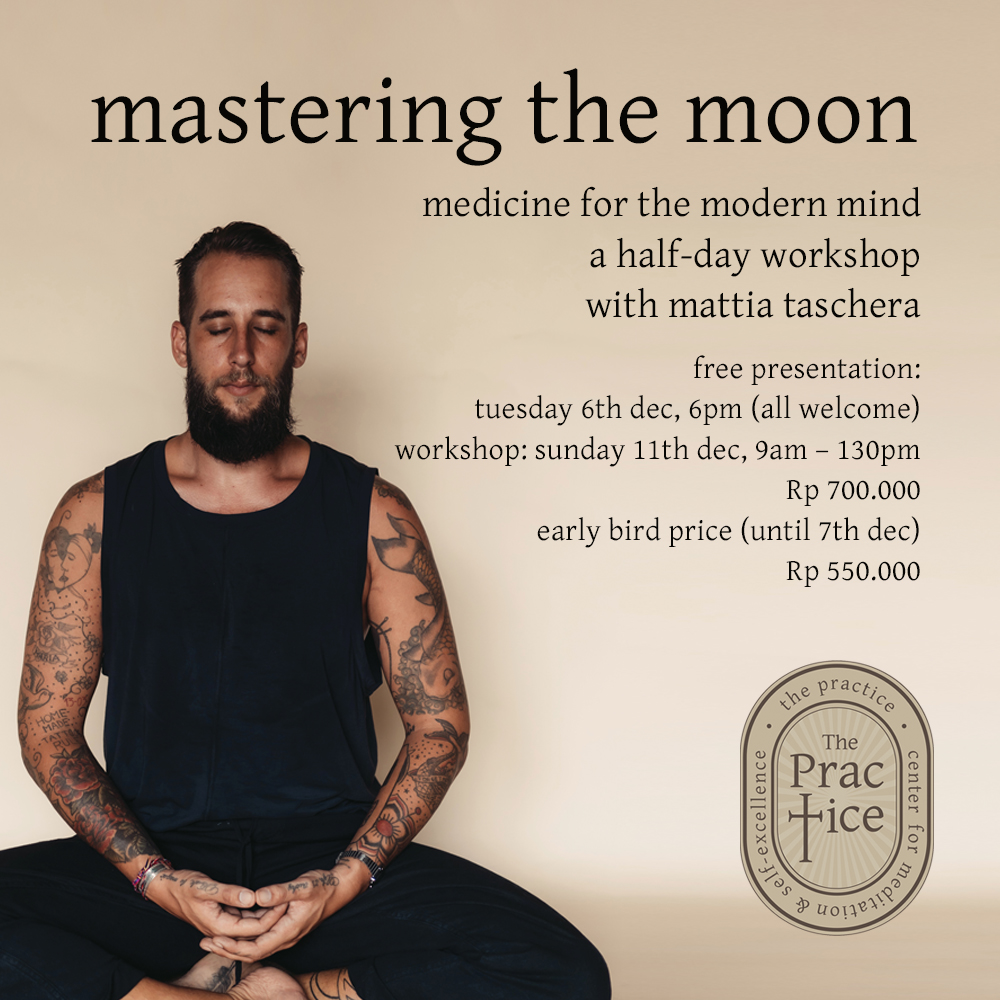 MASTERING THE MOON
MEDICINE FOR THE MODERN MIND. A HALF-DAY WORKSHOP WITH MATTIA TASCHERA
SUNDAY 11th DEC 9am – 130pm
Rp 700,000 Early Bird up to 7th Dec Rp 550,000
According to the Yoga Tradition, the Mind is the ultimate instrument of spiritual evolution. The Mind, which symbolized by the Moon in Hatha Yoga, allows the Light of Consciousness to flow through us and illuminate our life and choices. Mastering the Moon, which includes calming and stabilizing the Mind, plus activating our own innate capacity for clear-seeing is the foundation of success in both practice and life. Learn the ancient techniques that will allow you to access the Mind's inherent luminosity and transform you into a powerful Meditator and practitioner.
TOPICS EXPLORED:
The traditional Hatha Yoga system of Moon Sun Fire.
The Antahkarana – the inner instrument. Vedanta's map of understanding the Mind and its relationship to the Soul (Purusha).
Correct breathing methods for calming the Mind and preparing for Meditation.
The Kleshas – understanding the mental afflictions that separate us from our higher Self.
Understanding the wheel of Karma and how it can work for, or against us.
Tantric practices including Asana, Pranayama and Kriya Meditation to heal the Mind, let go of unwanted mental impressions and access the Mind's innate light, stability and clarity.