by Octavio Salvado.
The entire Universe turns in cycles of nine, in case you were wondering. At the completion of each cycle, be it nine days, nine months or nine years, everything starts over again. Life goes in circles for those who are not on their dharmic path, and spirals upwards, evolving and expanding for those who are.
I had a realization about a year ago, nine years after meeting my teacher, that I had drifted a long way from his impeccable teachings based on the ancient science of traditional Yoga and was practicing in a way that wasn't evolving my mind or my character.
At a fundamental level, although I was practicing everyday and from the periphery, working hard at it, I was still making poor choices and reacting to things in ridiculous ways. This realization led me to question EVERYTHING… even the validity of yoga itself.
And then the light switched on, 'its not yoga, its HOW I'm practicing it that's not only 'not' helping, its making me worse'. So I stripped everything back to the bones and returned to the beginning, my beginnings, and recommenced practicing Yoga the same way I had originally learned it – slowly, with an emphasis on the subtle, inner world rather than the dynamic external.
I went back into my old books and studyied everything over again, with fresh and desperate eyes, as if I knew nothing, simply compelled forward by the fear of constantly repeating my mistakes and the undeniable truth that I was in trouble. There it was, highlighted in orange, a single sentence beaming back at me from the beaten pages of the Hatha Yoga Pradipika:
"Once the Moon has been made steady, the Sun can be made to rise".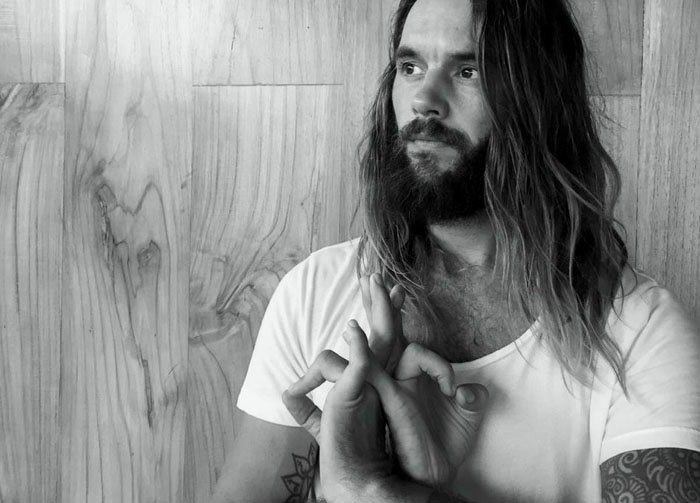 These fourteen encrypted words are now the basis for our entire Yoga program at The Practice. The Moon is a reference to the MIND and the Sun it's complimentary opposite, PRANA, here yoked together in one worldview obliterating Sutra from one of the oldest Hatha Yoga text on the planet explaining: Unless we slow down, calm down, get mentally stable first, then cultivating more Prana through practice is a recipe for disaster, because like Sunlight, Prana shines and illuminates everything it touches. Whatever is in the mind and nervous system it will amplify, essentially, Yoga will make us 'more' of whatever we already are and will not discriminate between our positive and negative qualities. That is our job.
And that's exactly what I was doing – Pumping myself with Prana, which is pure power. Trust me. The practices work and so positive parts were becoming more refined and negative parts more exaggerated. My personality was splitting in half.
At a brand new pace, I dove back into the study of everything that I had once known yet somehow forgotten. I stopped practicing the way I had and anytime my intensity seeking, unconscious practice habits swayed me, my body would break out in a rash. I stopped teaching that way too. A lot of people when we opened The Practice were expecting something from me based on what they knew of me previously. However what they received, are still receiving and will continue to receive is something very different.
I'm very proud of us for that – For making a stand in support of the true science of Yoga in a world awash with mostly mindless Vinyasa. Likewise I'm deeply grateful for all those who stand with us.
Don't panic! We still teach Vinyasa at The Practice, which falls into the SUN category, however the emphasis has shifted from the periphery to the subtle. Here, we use the practice to deepen our relationship to the energetic world of Prana, to that dynamic current of power and love within us, rather than the dynamic hustle and bustle of muscles and bones.
Did you know that from the little understood perspective of Kundalini Tantra, the Sun is considered Feminine? Actually, to be more specific, everything in nature is both Masculine and Feminine, however as we go deeper into the energetics of yoga (Tantra), the Sundial slides towards woman.
Woman after all, like the Sun, 'is' that force in nature that 'gives life' and at their fundamental core, both are about energy, feeling, expansion, radiance, joy and essentially, love. This puts a very different spin on our Vinyasa practice and Sun Salutes doesn't it? These practices were never meant to be aggressive or competitive, in this, so much of the Yoga world has it backwards. I had it backwards.
The counterpart to this concept, or we could say the counter-path is the way of the Moon, which according to the traditional teachings is the symbol of the Mind, also known as Chitta and considered the Masculine principle. This is why the Crescent Moon sits atop Shiva's head. Moon energy, combined with asana or simply as an expression in nature brings meditation, calmness, steadiness, presence, awareness, focus and perseverance, true qualities of a balanced and empowered Man and Mind-qualities that set up a base of integrity for the deeper work of cultivating more Prana, more Sun.
To be clear, Moon classes are not like Yin. Yin is a different system and an exceptional tool in its own right. Moon Practices use asana to provoke a mental challenge, calling our focus and steadiness into action, working with longer holds, forward folds and twists and constantly seeking out that part of our mind that simply 'witnesses'. For example, think about holding Warrior 3 for 1 minute, carefully transitioning to Revolved Half Moon for another minute and then carefully back to Warrior 3 for another half minute. Wow… for most people the mind, not the body (although we sometimes blame the body) is screaming to escape.
Good, let it scream. That's the point of Moon Practice: Developing an indestructible resolve to stay steady coupled with an unflinching focus and a deep connection to the inner part of us immune to all changes.
As previously mentioned, Sun practices including Vinyasa are about deepening our relationship to Prana, energy. It takes a very subtle, calm and skillful mind to be able to sense the unseen. If the mind is active during Sun Practice, Prana will make it more active, so even our Vinyasa classes are tempered with a steadiness and moonlike quality of calm. I see the unquestionable value in this now.
For a 'work-out' go to the gym, go for a jog, or call it what it is – gymnastics. Yoga is something entirely different. I'm committed to making this distinction clear, even if that means stepping on some toes. I'm not here to make friends or please people. My mission, our mission here at The Practice is bigger than that.
So that is how we are breaking the classes up here at the Practice – in the traditional way, following the ancient map of MOON SUN FIRE.
Fire Practice, just briefly, is the culmination of the entire path of Yoga. I'm sure it wont be too surprising when I tell you that its not about cultivating peripheral heat through dynamic movement. Fire Practice is the unifying of Sun and Moon, code for Energy and Mind, to systematically melt away the subtle limitations that bind our perception and restrict us from accessing our highest potential.
In order to do that, the deeper layers of practice are required because asana alone cannot do those things. Asana, Bandha, Mudra, Mantra, Pranayama, Concentration and Meditation come together to spark an inner illumination that literally changes the way we see ourselves and the world around us – What the ancients referred to as the awakening of Kundalini-Shakti. This is ultimately where the path of Yoga is leading us, and the path we are committed to here at The Practice.
When I self reflect, to be honest, I sometimes feel guilty about how many minds I must have disturbed during my teaching career due to my lack of understanding and respect for what yoga truly is and does.
The Practice as a Yoga School is my way to make it right again, to wipe away some of the karmic debt I've incurred through my teaching. I want to help people evolve, not in terms of poses, but in terms of personality, in terms of attitude, so that their whole lives can become more beautiful, radiant, peaceful and harmonious and I truly believe that yoga, practiced and taught correctly can do that.
Much love,
Octavio.