OUR TEAM
We are a world-class team of teachers who are all committed to the Sri Vidya Tantric lineage.
At The Practice, our hearts and commitment belong to the Sri Vidya Tantric lineage. Our senior teachers have received formal Mantra initiation into the Sri Vidya path – a path dedicated to bringing more beauty and goodness into the world.
We live and breathe Sri Vidya's sublime worldview and using the ancient methodology of Tantric Hatha Yoga, we seek to empower ourselves and our students to use every moment of life to express gratitude for the gift of this existence.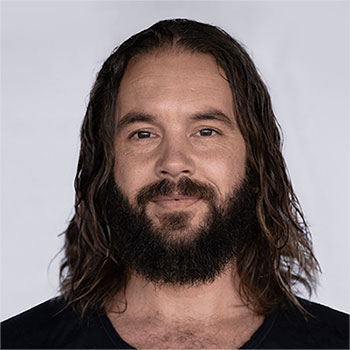 OCTAVIO SALVADO
CO-FOUNDER, CO-OWNER, PRINCIPAL YOGA TEACHER
"By the grace of my teachers, the Masters and my heavenly Mother and Father, my mission is simple: to share Yoga with the world in the way that it was intended – as a spiritual science designed to awaken us to our highest potential. Everything I teach is lineage-based, handed down from teacher to student for thousands of years in an unbroken chain of personal transmission.
Since I began teaching in 2006, my only wish has been to serve humanity by sharing this great science and simultaneously honor my teachers and the long line of dedicated Yogis that came before them."
Octavio began practicing the science of Kriya Yoga at age 19 and was eventually initiated into Kriya Yoga at 27 in Northern India. He pilgrimaged for a decade across India, deepening his understanding and practice of Yoga and Tantra; things that can't be learned from books.
He has accumulated dozens of certificates over the last two decades, but to him they matter very little. As the Masters say: 'Only direct experience matters and how committed we are to daily practice'.
Now, with the unshakable resolve to educate people on the truth about Tantra – about what it is and what it isn't – and to make it more accessible and meaningful for the masses, Octavio has committed himself wholeheartedly to the lineage of Sri Vidya Tantra, the knowledge-stream of the Himalayan Masters. This sublime lineage, above all else, is dedicated to bringing forward more light, wisdom and beauty into the world by the virtue of committed personal practice.
With his relentless studentship and unwavering commitment to self-practice, Octavio hopes to help all dedicated students find more purpose, self-reliance, joy and freedom in their daily lives and ultimately, achieve the highest goal – Self Realization.
He believes that when practiced correctly and with the right guidance and attitude, the potential for Yoga and Tantra to deeply transform all aspects of our lives is limitless.
---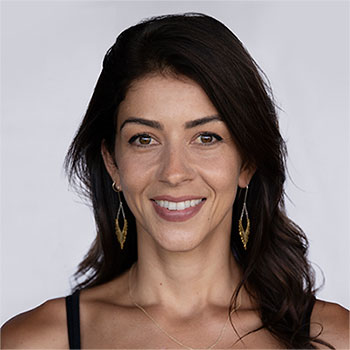 KELI DIERINGS
YOGA COORDINATOR, YOGA TEACHER
"One of the greatest gifts I received with Traditional Hatha Yoga is to understand that I am not my thoughts, or just a body, but rather I am the awareness that rests beyond the forever fluctuations and changes of life. That gave me freedom and inner peace – to know that who I am is always resting in intrinsic joy."
Hatha Yoga and meditation have guided me to remember the true essence of who I am, my Soul, and that this Soul that has a mission in life: to support others in remembering their inner light too. Yoga has shown me many times that joy, light, opportunity and growth are presented in every moment, especially the difficult ones."
Keli comes from Brazil and has always loved physical activities, exercise and movement practices. She began to practice Yoga committedly in 2011 when she lived in New Zealand. Because of her fitness and gym background it was no surprise that she gravitated to the more physical side of Yoga, guiding her towards the first stages of this Spiritual path.
At one point, Keli became curious about what existed beyond the physical aspects of Yoga, which according to traditional teachings, is a spiritual practice. It was during that time she met the teacher that changed her life – and her Yoga practice. For the first time she experienced a glimpse – a remembrance – of her Soul. The meeting was just for a few brief moments initially, but it changed her perspective. Since then, a hunger to experience that part of herself seems to grow every single day.
Keli's goal as a yoga teacher is to share how these traditional teachings of Tantric Hatha Yoga helped her to live everyday life with a richer understanding that life is a GIFT and every human has the capacity to heal, to grow, to evolve, to make better choices. Her passion is to share that in every moment and circumstance, we must:
Get calm
Remember that you are light
Evolve from your previous limitations
Help others. This is why we Practice!
---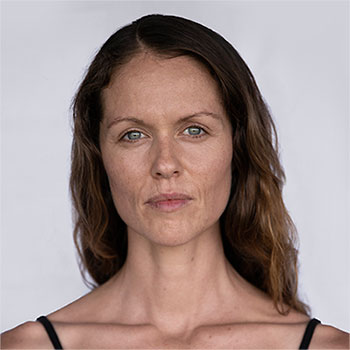 ELLEN ARTHUR
YOGA TEACHER, MANTRA TEACHER
"When I found yoga in 2011 (or maybe it found me) I was at a crossroads in my life… something needed to change. I found solace on my mat, which allowed me to begin the long journey of self-discovery and healing. Yoga became my therapy and my best friend."
Ellen is a seeker, a student and someone who is incredibly passionate when it comes to discovering life's true meaning and purpose. As long as she can remember Ellen has been searching for truth, for love, for connection.
When Ellen discovered yoga in 2011 it was a fascinating transition from old self identification, to renewing the way she viewed herself and the world. For some time her life was clouded in confusion and indecision. Through committing herself to Traditional Tantric Hatha Yoga, having incredible teachers in her life and being supported by a strong and sublime lineage, the lens of perception for Ellen has cleared and continues to clear. Seeing life as a gift, an opportunity, a celebration.
Being a singer all her life, the art of expression has been a big part of her journey. Through the devotional practice of kirtan, chanting mantra, Ellen realised that the way to the heart, to love and to connection was through singing with people. Mantra takes us to that love, that inner knowing, then all that is left for us to do is to surrender to the light of the heart.
---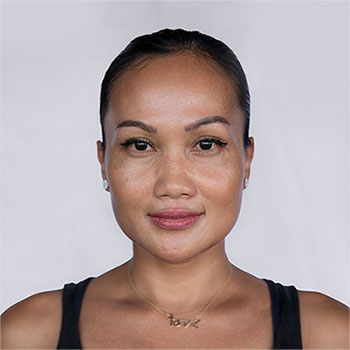 AMI EFFENDY
YOGA TEACHER
"I feel so connected with this vast and profound science for exploring consciousness and realising life's ultimate aims. Traditional Hatha Yoga provides one of humankind's most effective systems for achieving enrichment and happiness in every aspect of life. These powerful lineage-based teachings and traditional practices have transformed my life immensely. I am very grateful that my journey has brought me into this path."
Ami grew up in Malang, one of the biggest cities in East Java and moved to Bali 16 years ago after graduating from Business School. She first discovered Yoga 10 years ago while looking to find activity that gave her the physical benefits and stress relief from the daily grind of a corporate environment.
Since graduating from university, Ami immediately jumped into the corporate world of public relations, marketing and events and retail management, until she finally met her teacher, Octavio Salvado who introduced her to Traditional Hatha Yoga. She never looked back after finding her journey home.
She feels extremely honoured and humbled to be part of this wonderful team and able to share this beautiful wisdom and tradition with the rest of the world.
---
ADAM MAHMOUD
YOGA TEACHER
"What I love most about this practice is its depth! You are never done, there is always something to learn and more to practice. It's a ritual I perform every day to honor the divine within me all around me, to reconnect to the sacredness of all of life and her beauty. My goal as a yoga teacher is simple: to bring more love, kindness, and compassion into the world through sharing these teachings."

Adam hails from Wales, United Kingdom but is also half Egyptian. Since 2005, he has travelled around the world studying with experienced masters, healers, and Yoga & meditation teachers from Ibiza, Bali, Australia, LA and India.

Throughout this time, he has dedicated his life to educating and teaching thousands of people around the world to understand their bodies, minds and true divine nature. Adam is driven by his life's mission to spread more love and kindness throughout the world. Before arriving in Bali, he was based in Montreal, Canada where he led classes, workshops, and retreats.
---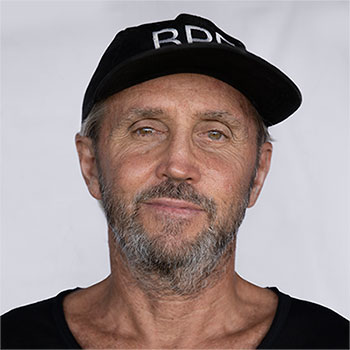 ROB DUBOIS
CO-FOUNDER, CO-OWNER
"Back in 2012, I decided to dive in all the way and attend a Yoga Teacher Training Course in Bali. This really awakened a new side of me and raised my consciousness to a level I was unaware I was capable of. I reflect back on my life now and wonder how I survived (literally), being so unconscious for the past 40 plus years."
Rob's yoga journey started back in 1999, when he checked himself into a health retreat that offered this thing called 'yoga'. After retreating in Queensland, Portugal, Morocco and Thailand, Rob found himself on the Bukit in Bali to rediscover his love of surfing. In those days it was all about the surf first, yoga second. After a 30-year life at sea as chief engineer on super yachts, a worthwhile but taxing career in all aspects of life, little did he know he would deepen his practice and take a leap of faith and move to Canggu, Bali where he completed his first teacher training.
Rob's love of surfing and passion for yoga combined made Canggu a natural choice for a place to call home. It was here in Canggu where he started practicing yoga regularly with a teacher named Octavio. The two quickly became bros, and after a discussion over coffee one day, The Practice was born. And as they say, the rest is history.
How could Rob ever have known his decision to move to Bali would lead him to co-owning a yoga studio and eventually finding the love of his life. Well, after some time during his retreat days, Rob explains he 'felt an internal shift'. This shift was powerful and gave him the impetus to start doing things a different way. One of Rob's favourite sayings is 'if you want a different outcome, then you need to do things differently.' And boy, did his life transform!
Rob Dubois is a man on a mission in life to evolve his practice so he can be of service to others. He is passionate about people, connecting people and reaching out to communities less privileged and offering support they need through his personal endeavours with his beautiful wife Cate, beside him, and through The Practice Gives Back.
Rob is a qualified yoga instructor, though you will rarely see him on the mat (surfing still trumps). Rob calls his practice, 'practice off the mat'. "I love the way I can use the philosophy of yoga and integrate it into my life." And his love for the practice of giving doesn't just extend to humans, Rob helps dogs and nature as well. The Practice Gives Back donates money to three charities: The Bali Street Mums, MPH (Merah Putih Hijau) – a green initiative, and Doggess, all charities that Rob has championed.
Personally Rob and Cate love giving back in many ways including KGB (Karangasem Gives Back) – a grassroots initiative – for one of the poorest areas of Bali.
Rob's a straight up guy, he is honest, caring, strong, grounded and has shown resilience in all aspects of his life, especially his journey of evolution of the mind, body and soul.