by Octavio Salvado.
When Ice Cube rapped "Better check yo-self before you wreck yo-self" he wasn't speaking to modern Yogis, although he may as well have been. Because unless every traditional text on Hatha Yoga, including Swatmarama's quintessential expose on the ancient science, the 'Hatha Yoga Pradipika' are wrong, Yoga has never been about the body. It was never about the bones.
To begin with, bones don't even exist. Not really. As soon as we take an electron microscope to a bone and dial in a few clicks, an intricate web of neatly ordered, vibrating, crystalline molecular strings appear. These, upon closer inspection transform into clusters of atoms sweeping back and forth, dancing in unison to a silent melody like a green ocean of grass blades in the wind. If we then zoom in again, the seemingly solid electrons dissolve revealing a vacuum of space supporting a tiny nucleus that upon even further magnification, similarly dissolves into what could best be described as an oscillating field of energy.
The reality is that bones definitely do not exist, at least not as we typically understand them, and neither does anything else. So why would an ancient culture spend thousands of years developing a science to study a non-reality? Exactly. They didn't. The ancient Yogis understood that life is the intelligent dance of interlocking, pulsating fields of energy occupying the vast infinity of space, simply giving off the illusion of substance via the bonds created by resonant frequencies interacting with one another. They called this field the 'Nāda', the ocean of silent sounds. Meditative absorption into it, Swatmarama suggests, is the very purpose of Hatha Yoga. Not surprisingly, the chapter on Asana is way back in the beginning and the syllabus of postures is slim and primarily seated.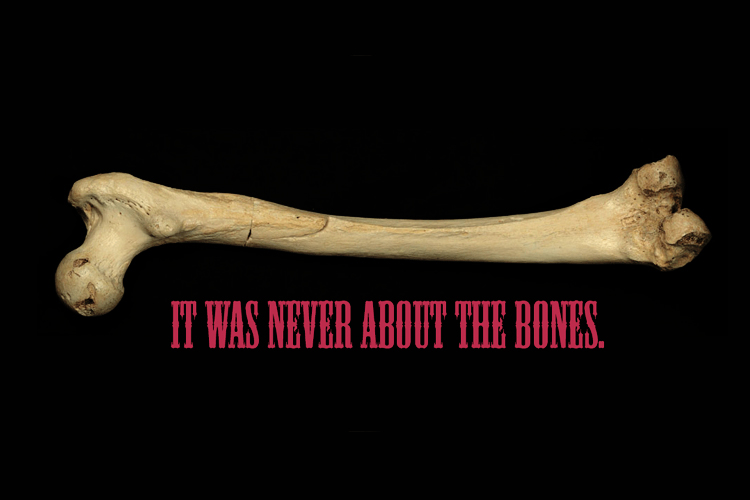 Asana certainly plays a role in Yoga, if and when its done well, which currently it isn't. The great Yogi Krishnamacharya, the grandfather of modern postural Yoga, never intended for adults to practice Vinyasa the way it is taught today, as it runs counter to the fundamentals of Ayurveda and therefore, Yoga. There are exceptions of course. For example, if a student's primary constitution is Kapha, or if they are in the Kapha years of their life (between birth and age twenty) or if a Kapha imbalance needs treating, then a dynamic, heating practice could be a beneficial strategy to address the inherent qualities of Kapha.
What's frighteningly obvious today however, is that the integrated knowledge that truly empowers practice, such as the non-negotiable connection between Yoga and Ayurveda is not there. One glance across the sweaty sea of bright lycra reveals a distinct absence of the Kapha constitution. One or two (God bless their souls) will show up and do the honest work perfectly suited to them and the rest, being a mix of intense Pittas and up in the clouds Vatas will both suffer in different ways the wrath of heated rooms, perfuse sweating, loud music, lack of space between poses, competitive environments and unscientific sequencing. The result? A culture of Yogis burning through Ojas like cheap incense sticks. Yogis destroying their immune systems, disturbing their sleep cycles, destabilizing their digestion and sabotaging any real chance of ever achieving deep states of meditation. Instead, the coating covering the nerves keeps getting thinner and thinner until the 40 year-old Yogi's personality reverts back to one of an over-reactive teenager. Yes, I said it. Sometimes Yoga can take us backwards.
The complimentary issue is that to an imbalanced system, an imbalanced practice will feel healthy, in the same way that a drink will feel relieving to an alcoholic, but just because it feels good it doesn't mean its good for us. Raw food and our modern obsession with smoothie bowls are other examples of this insanity. Interestingly, these seemingly separate issues tend to show up in the same circles. Both go completely against the fundamental teachings that Yoga has been trying to get through our skulls for several millennia – that in order to thrive, we need inner fire. If we put cold, wet things into our digestive system, the digestive flame will fizzle out, lose its power to process and assimilate food and in many cases, completely extinguish. And to be clear, inner fire, Agni is not generated by turning up the thermostat or by increasing the intensity or complexity of practice.
Again, there are certain constitutions that manage raw food and cold, wet piles of pink and purple mud more efficiently, however generally speaking they suppress the digestive fire which, digestive issues aside and perhaps most importantly, results in a dimming of our mental fire. We become less able to process information, extract nourishment from our experiences and convert it into wisdom. We become less mentally bright.
Do the Traditional texts speak about lightening our intake of food? Yes, in terms of quantity, definitely they do. Existing on nuts and berries on the other hand only applies if we are forest-dwelling ascetics who have the liberty of sitting in ashrams and under banyan trees meditating for 12 hours a day. We are house-holders, mothers, fathers, business owners, students, life-livers and the reality is that to live an extraordinary life, we need the inner fire burning brightly. So check yo-self before you wreck yo-self because smoothie bowls ain't good for your health, and for the most part neither are hot, sweaty practices, even if they feel good. As a superior yardstick for balance, check your immune system, check the genuine depth of your meditations, check your digestion, check your sleep patterns and check the way you show up in emotionally charged situations. These are the measures that matter.
Its time for Yoga to return to Yoga and ditch the addiction to feel good, flip your dog and flow Yoga. Sweat til you drop, twenty-day Yoga-shred Yoga. Tone your muscles and not your mind kinda Yoga. People ask, 'Isn't all Yoga, good Yoga?' But this is the same as asking 'isn't all sex, good sex?' And we all know the answer to that. Transcendental experiences, whether on the mat or in the bedroom require a serious slowing down, flavored with love, care, patience, presence and in my opinion, no soundtrack. If what we are seeking are the subtle, inner frequency-rivers of the Nāda that connect us to the electro-magnetic ocean comprising all things, then a human playlist becomes a deadweight, anchoring us to a mundane experience of an illusory, peripheral reality.
Yoga's future depends on the past. A return Tradition, starting with balancing the food-body with a constitutionally sound diet that for the most part, you guessed it, will not include smoothie bowls. Supporting smart food choices will be intelligent Asana practices that don't over-heat the body or agitate the mind. Practices with space, stillness, silence and slowness built into them, fleshed out with deep seated twists and folds, belly-down backbends and the occasional elbows thrown in the abdomen. Medicine for the modern mind. These are the game changers for the majority of modern Pitta and Vata dominant Yogis. Not hand-standing, not grand-standing, not hollow back anything. Asana is there to pave the way for Meditation by clearing energetic blockages that tend to coalesce in the area between the navel and the pelvic floor, again, the home of Agni, the abdominal fire. When the navel is free, the mind is free. Then we can we evolve the presently backwards moving Yoga dialogue to include the more advanced methods that pulse at the heart of the tradition.
Kriya Yoga and Raja Yoga are two such suggested methods that speak to Swatmarama's opening verse regarding Yoga's intended trajectory. The author begins with his praise to the original Yogi, Lord Shiva, who he then tells us instructed his wife, Parvatti in the teachings of Hatha Yoga, considered the ultimate stairway for those who wish to ascend to the highest state of Yoga, Meditation. Hatha Yoga, including Asana, Pranayama, Bandha and Mudra are merely a stairway guiding the mind towards absorption into the vibrating waves of the Nāda, the ocean of primordial sound-currents.
Kriya Yoga as a higher octave of Hatha Yoga, involves the consolidation of Hatha's Prana-driven practices. It is considered the ideal form of Yoga for modern Yogis who genuinely aspire to advance towards the sublime heights of meditation. For Sattvic minds, namely those people who don't have jobs, homes, families, partners, pets, parents and worldly lives to attend to, Raja Yoga is the suggested road. The Raja path is not for people like us. Our minds are too Rajasic, too busy, they are constantly moving because our lives are full of activities and responsibilities. Therefore, we must meet our minds where they're at and skillfully guide consciousness towards the Nāda through the systematic manipulation of energy.
Kriya is a dynamic form of meditation designed for active minds. It appropriately opts to bypass working on the mind directly at the risk of splitting it open even further into duality and instead uses simple, accessible postures with inner visualizations and mantras to guide energy into the spine and upwards to awaken the latent areas of the brain. In doing so, through consistent effort, a refined sense of self arises and a corresponding expanded understanding of a non-solid reality.
Our constant obsessing over the body, putting the bones into increasingly more complicated shapes, shredding the body, sculpting it, flipping it, popping it and ignoring the subtle body is no longer serving us, or humanity. 'Meditate. Meditate. Meditate'. This is the mantra of the future of Yoga. Same as it was in the beginning. The time has come to evolve the conversation and move beneath the periphery and beyond the shallows. The Masters are calling us from the deep and only in stillness will we hear their call. So pause, be still and listen, because in the silence, we truly can hear the entire universe.
Octavio and the team at The Practice deliver weekly Kriya and Nidra meditations on a Tuesday and Thursday at 3pm. Plus at The Practice Online you can get to experience Kriya and Yoga Nidra classes with Octavio and The Practice Teachers.