by Octavio Salvado.
Surprisingly, of all the social media posts I've made over the last few years, these five simple words posted last week gained the most traction: NEVER DRESS LIKE A YOGI. For that reason, I thought it was a worthy subject to flesh out a little further.
I think about my two teachers. I consider both of them to be modern day masters of the ancient path of Hatha Yoga. If you were to see them walking down the street there is absolutely no way you could tell that they were advanced Yogis, because they wear their Yoga on the inside. If, however, you stopped them and looked into their eyes, then you would know. They have eyes like lightning, eyes that pierce the layers of mind and personality and penetrate straight to the soul. It's simultaneously very confronting and profoundly liberating to be in their presence. They see everything and love you anyway.
So why aren't these men dressed in robes, draped in malas and sporting fancy Indian names? The answer is simple; it comes back to the Yamas and Niyamas. Not those set out in Sage Patanjali's Classical Yoga, but the Tantric Yamas and Niyamas, Hatha Yoga's own ethical guidelines. These assist both in purifying the Yogi's character so that only the best of their being gets vitalized and simultaneously they are a means of gaining insight into progress, a kind of map for living Yoga both on and off the mat.
Tantra does include the five Yamas and five Niyamas of classical Yoga, however it adds an additional handful into each category, such as Forgiveness, Compassion, Authenticity and perhaps the most pertinent addition to this conversation, Humility. What you may notice if you read back through those words (or better yet, feel into them) is a common theme – they all soften the ego.
Hatha Yoga is not like Classical Yoga. The orientation is entirely different. They are complimentary paths, however, they are not the same. Classical Yoga (Patanjali's 8 limbs system) is a path of Insight, a way of coming to understand the nature of the mind and ultimately move beyond it. What is beyond the mind? The mind's own source known to the ancients as Purusha, the changeless one, the one who is eternally at rest in the city of our body, our mind and our usually very busy lives.
Tantra, or Hatha Yoga on the other hand, is a path of Power. It sees the value, even necessity of a calm, steady mind (hence it includes the Yamas and Niyamas of the classical system), however the emphasis is on Prana, energy, also known as Shakti. Perhaps this already gives you some insight into why qualities such as humility and forgiveness are not just suggested, but considered fundamental requirements for advancing in practice.
Here is the reality; as we deepen our practice beyond the peripheral and preparatory modalities of Asana and Ujjayi and move towards the more transformative techniques of Hatha Yoga, we will begin to cultivate more power. The Tantric Yamas and Niyamas are there to keep the spiritual ego in check. They ensure that we never get to a point where we feel, or demonstrate, that we are special. Like my teachers told me (and continue to tell me, God bless them, whenever my own ego gets out of check), "Be humble enough to be like everyone else. Relate to your Yoga internally". In other words, the only time anyone should know you're a Yogi is when you're practicing it.
This theme is reflected back to us in so many of the myths rooted in the Yoga tradition and perhaps nowhere more potently than in the story of the Yogi-Warrior Monkey God, Hanuman and the pivotal role he plays in the Ramayana. His power and humility are instrumental in the success of Lord Rama's mission to rescue his Queen, Sita, after she is stolen away by the ten-headed demon, Ravana. Many consider Hanuman to be the true hero of the story. I would have to agree.
Like all myths, the Ramayana is a mirror into our own lives. Each character represents a unique aspect of our multifaceted mind. The separation of Sita and Rama is the separation of the self from the Self, lost in the forest of life, stolen away by our own ignorance and in the case, the 'spiritual ego', anthropomorphized by Ravana, a powerful Yogi in his own right. Hanuman, on the other hand, is the Yogi supreme. More loyal, devoted, courageous, capable, powerful and humble than any other character in the story, Hanuman is the invitation to show up in every single moment as the highest version of our self, minus any pomp or fuss.
His journey is our own journey deep into the heart of practice. When it's time for him to stand up and show his worth, he summons his power, overcomes his fears, his demons and does what needs to be done, yet does so completely absent of any pride or ego, filled only with humility and devotion. This is what makes Hanuman impeccable; his ability to do great things and simultaneously remain completely ordinary. Hanuman shows us that the deeper we go into Yoga, the more ordinary we must become, as ordinary as a monkey, as relatable as the most common man and avoid at all costs, getting wrapped up in the story, wrapped up in the robes or changing our name to Swami.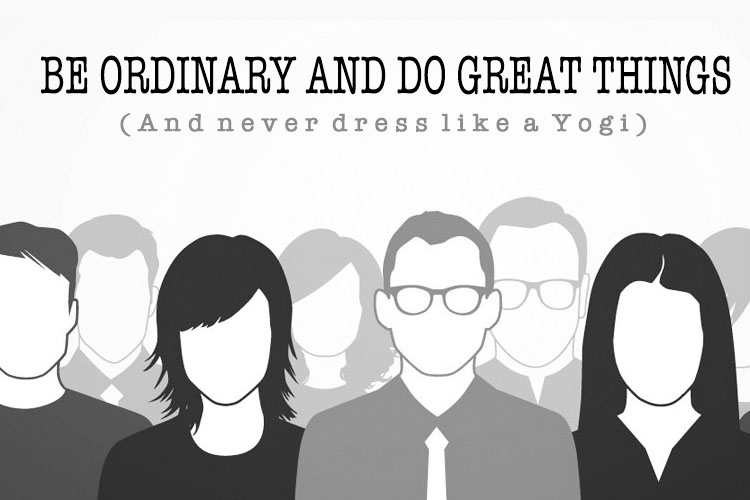 Hanuman's message is simple; get ordinary, simplify, stay humble and then, when it's time leap, time to fight and overcome, when it's time to step onto the mat, the meditation cushion, the uncomfortable conversation and practice our Yoga, give it everything you've got. Rise up against the darkness, rip open your chest and let the dual light-streams of courage and humility explode out, merge and consume every action, thought and word.
This is Hanuman as the Yogi. No one would know of his immense capacity if they saw him walking down the street, or swinging in a tree, because his Yoga is inside of him, its his personal quest. Yoga then, more than anything is our own private bridge between the mundane world and the spiritual. It speaks to our relationship between the Sita and Rama within, our self and our own Source and no one other than us needs to know what goes on in that world.
So, back to the point, 'NEVER DRESS LIKE A YOGI' is another way of saying 'beware of the pitfalls of practice'. It's not necessarily about no longer wearing mala beads or white dhotis. It's more about checking our motivation for doing things (and in this case, wearing things), because as we increase our personal power the ego will seek out new and fascinating ways to express itself, outwardly.
This is the reason for Tantra's addition to the Yamas and Niyamas. This is why my teachers just look like regular dads. This is the reflection offered to us by Lord Hanuman; just do the inner work, for you. Lean into humility, lean in ordinariness, lean into 'I'm not special', then let the light of your own truth shine out of your eyes and be done with it.