by Octavio Salvado.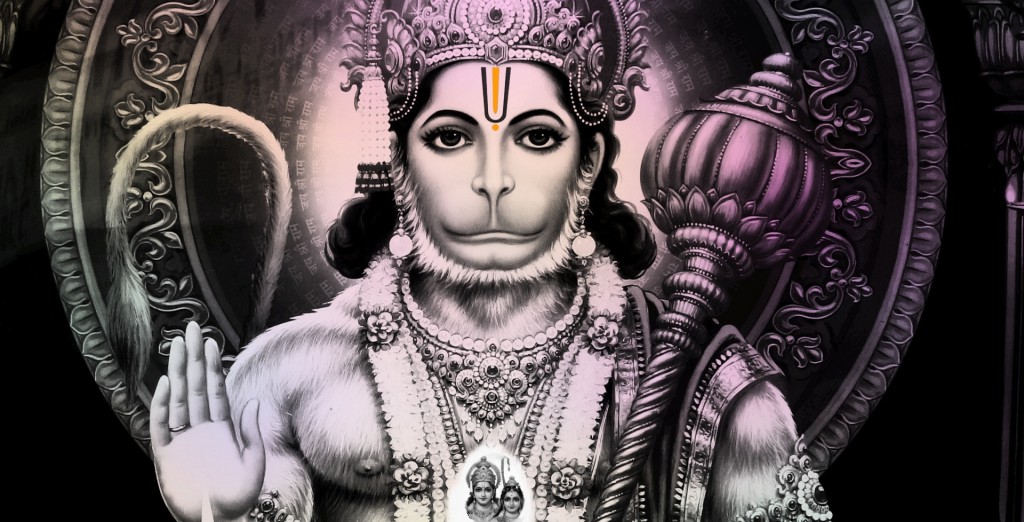 We are as good as the promises we make. We are as great as the promises we keep. Hanuman is many things, yet above all else he is our own deeply committed self, reflected back to us, mythically.
We are losing the capacity to get mythic with our minds and as a result, the opportunity to embrace greater depth and freedom in our practices and lives. Myth is not simply about entertainment, or even about culture, the role of Myth is more important than that. It is a powerful tool of self-study, designed to engage our hearts and minds simultaneously and help us to see ourselves more honestly, with more acceptance and most of all, as more intimately connected to the fragile beauty of the collective human experience than perhaps we once thought.
In India there are over 300 million Deities, each with their own story, own triggers, tendencies, vulnerabilities, joys and strengths. From the perspective of mythic consciousness, every single one of these faces reflects back to us something about ourself. Every word that passes their lips, a code language whispered to our psyche, reminding us of how utterly marvelous, complex and multidimensional we are.
Of them all, Hanuman is the quintessential mythic being and for the Yogi, by far the most interesting and important. For his journey, straight through the center of the Epic adventure, The Ramayana is our own journey deep into the heart of practice. More loyal, devoted, courageous, capable, playful and humble than any other character in the story, Hanuman invites us to show up in every single moment, both on and off the mat, ready for anything, ready to embrace life and engage wholeheartedly with whatever situation is being presented. As Hanuman, we are ready to stand up for what we hold dear to our hearts and fight to overcome what blocks the path that bridges our personal and spiritual lives together.
Hanuman is the Yogi, and yoga quite simply, is that bridge between worlds. Approached with unwavering commitment, the theatre of practice offers us very similar opportunities and struggles as the theatre of life. The magnitude is different, as are the consequences, yet when we step to the mat with utter devotion to the task at hand, the qualities required to skillfully navigate it are the same – courage and humility in equal proportions, because facing fear and overcoming it as well as facing our limitations and accepting them are an inbuilt, unavoidable part of the path. No way to side step it. Every class, every pose, every breath is a new adventure.
Sita, Rama, Hanuman, even the ten-headed demon, Ravana are all part of that inner adventure told as myth, outwards. When Rama 'loses' Sita in the forest, it is really 'us' losing our perspective, disconnecting from our inner self somewhere deep in the forest of life. The word 'Sita' means 'to furrow', meaning she is from the Earth. She arises from the Earth and at the end of the story, to the Earth she returns, unchanged. Sita is that part of us that does not change, the eternal Self, the Atman. Rama, our worldly self has lost her to the forest. Bills to pay, appointments to keep, we lose touch we what's truly important. And so Rama, the Jivan – the embodied self has arrived at a critical juncture: The promise to ourselves we must make. The promise we must keep.
This is Yoga, a promise to our self. So when Rama meets Hanuman in the forest, symbolically this is the moment we stand up and firm ourselves in the decision to do the work that needs to be done. The story depicts this moment so beautifully. Rama overhears Hanuman making a vow, a promise to himself, "I WILL find Sita". Such clarity. Such passion and conviction! Nothing else matters to Hanuman in that moment, and it is here, right here, if we look at the story with mythic eyes, that we see and embrace the opportunity to reclaim our lives. "THIS is who I am!! And THIS is what I will do!!" Hanuman is the recognition that we are all supremely capable and furthermore, that the entire world is our yoga mat, our lives lived, our spiritual practice.
Having overheard Hanuman, Rama goes to him, embraces him and hands him a golden ring, a metaphor for our worldliness making an offering, a commitment to our spiritual aspect. A promise made, and in the case of the Ramayana, a promise kept. Hanuman summons his power, overcomes his fears, his demons, finds Sita, does what needs to be done, yet does it all completely absent of pride, filled only with humility and devotion. This is what makes Hanuman impeccable, his ability to do great things and simultaneously remain completely ordinary. Hanuman shows us that the deeper we go into yoga, the more ordinary we must become. As ordinary as a monkey, as relatable as the most common man and avoid at all costs, getting 'wrapped up' in the story, wrapped up in the robes or changing our name to Swami.
Hanuman invites us to do exactly the opposite: get ordinary, simplify, get real, stay humble and when its time to, leap with everything that God gave us. When life calls on us to stand up for what we believe, then we must rise up against all odds, tear open our chest and let the light of courage and humility explode out, merge into one and consume everything we do. This is Hanuman.
His story is a tale of remembrance, a wake-up call to our fearless heart and an invitation to get ordinary, yet simultaneously, become more than we ever imagined.
***
SPECIAL THANKS to Noah Maze for all of his epically themed Hanuman practices and insights. JAI HANUMAN!!