SVASTHA
To be in perfect health and balance with yourself
WOMEN'S YOGA AND WELLNESS RETREAT
WITH EMMA SALVADO
6th – 12th MAY 2024
CANGGU, BALI
Have you ever considered what Svastha is for you?
What being in perfect health with yourself would look like, feel like?
What kind of life you would be living, what choices you would be making?
Perfect Health and Balance is our Birthright… it's who and what we are.
For many reasons however, this may feel like an unattainable goal, because the lives we are living often push us further away from being in balance with ourselves..
Svastha is not a body shape, it's not a number on a scale, it's not a job title, it's a very personal and individual way of being connected to our truest of true.
Life in these modern times bombards us with images and ideas of how we "should" be as Women, without actually asking us who "are" we?
Join Emma for a retreat in Bali that she has designed to help bring you back to that place of health and balance.
This is an opportunity for you to take some time away from your everyday life…
Immerse yourself in nature, get still, look within, practice devotion, laugh, cry, learn and seek to remember the essence of who YOU truly are..
For 6 nights and 7 days you will be immersed in the practices, ceremonies, experiences and activities that will guide you back to that place of remembrance in the company of other like-minded souls.
The retreat days will be spent exploring what brings nurturance and nourishment to your physical health and wellness, your emotional language and landscape and of course your spiritual wellbeing through Yoga Asana, Pranayama, Meditation, Yoga Nidra, Ceremony and Sound Healing.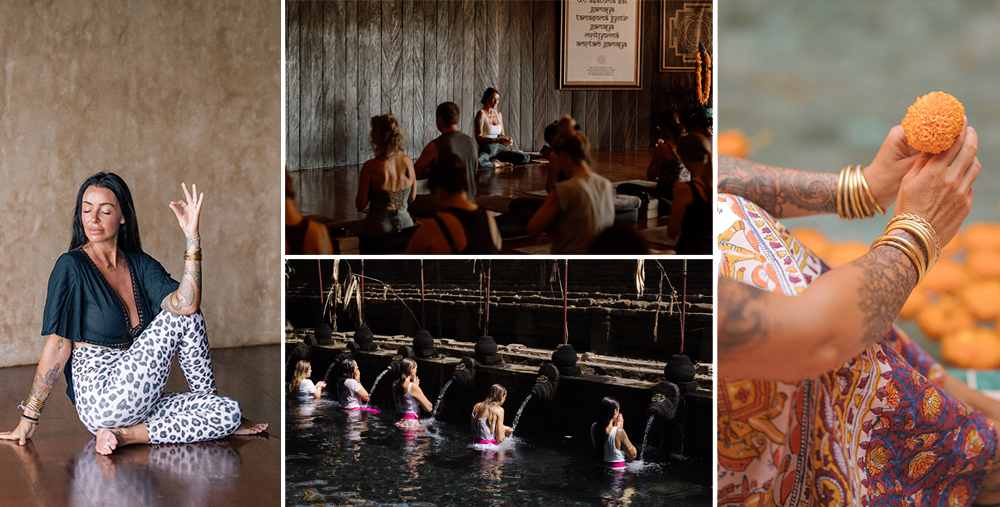 Your Teacher – Emma Salvado
"Yoga has without a doubt brought more stillness and truth into my life. In the way I parent, relate to my beloved husband, the way I teach and they way I navigate my life both on and off the mat. I have found elegance in the stillness of the pauses that I once needed to fill. There is no separation between my practice and "the rest of life", it's all one and the same. "
Emma is a devoted wife, mother, Traditional Hatha Yoga teacher and women's mentor. She lives in Bali with her husband and two children. Together with her husband, she owns and runs The Practice Yoga and Meditation Center. She has devoted her life to sharing and educating people on the teachings of Traditional Tantric Hatha Yoga.
Emma began practicing Yoga during her first pregnancy over twenty years ago, and really started to count on Yoga to bring her a sense of calm and stability at a time in her life when she was struggling emotionally.
She started attending regular classes and recognized the benefits of a committed Asana, Pranayama and Meditation practice.
After the death of her mother when she was four years old, Emma gravitated towards healing and spirituality as a way of understanding who she was, why she was here and was fascinated by life's bigger questions.
She found herself isolating from her peers after suffering a monumental loss at such a young age.
"In a culture of scarcity, where nothing is ever enough, Yoga gave me the courage to be seen, the freedom to speak my truth and connect to my intrinsic feminine strength and intelligence."
This has led her to where she is now: understanding that she has the capacity to heal herself and help others do the same.
Emma knew from the beginning of her Yoga journey that these teachings were the medicine for many problems in our modern world and that she was destined to share these teachings with the world.
Emma has trained and studied under the Hatha teachings of B.K.S Iyengar and Vanda Scaravelli and is now a dedicated student of the Sri Vidya Lineage.
Emma truly believes that our spiritual practice is reflected in our relationships and family dynamics and is committed to being a radiant example of this truth.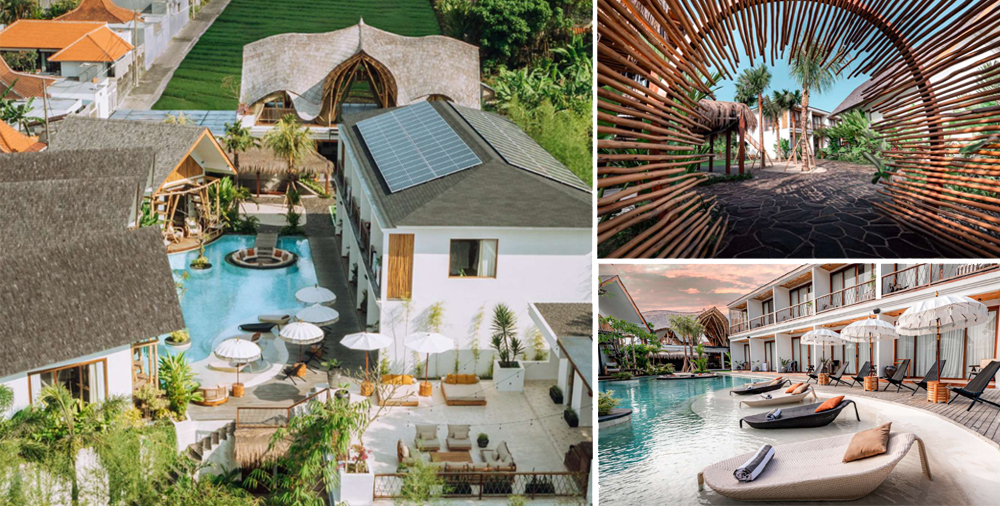 Location
Our retreat is hosted at a beautiful, eco-friendly retreat center 'Oasis' in Canggu, Bali, surrounded by Bali's famous rice fields and temples.
It is located only a 500 meter walk, or 1 min scooter ride to Nelayan Beach, perfect for those wishing to enjoy an early evening coconut while watching the sunset.
The center is also within easy walking distance from many of the well known restaurants, cafes and boutiques in Canggu.
The 2000 sqm retreat property is beautifully designed, putting the comfort of each and every guest as a top priority.
Accommodation
Room Options:
We have 13 rooms available with 4 different room styles to cater to all budgets and needs. All prices are per person and priced in USD. (These prices are fully inclusive of accommodation, 2 delicious meals per day and all classes and activities listed below)
4 Bungalows – $ 4000 (Single Occupancy)
6 King Suites – $3500 (Single Occupancy)
3 Shared Suites – $3000 (Double Occupancy)
1 Quad Room – $2500 (Quadruple Occupancy)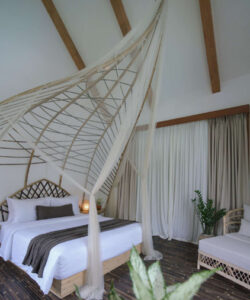 Bungalows (4 Available)
The Bungalow rooms come with one private king-sized bed, working desk, custom bath tub, waterfall shower, swim deck, relaxing net, strong wifi, ceiling fan and air-conditioner.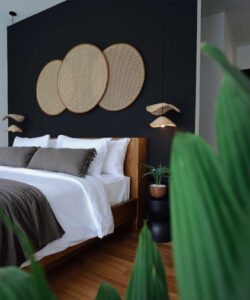 King Suites (6 Available)
This private bedroom comes with a patio or balcony facing the gorgeous pool, equipped with a king-sized bed, working desk, waterfall shower, strong wi-fi, ceiling fan and air-conditioner.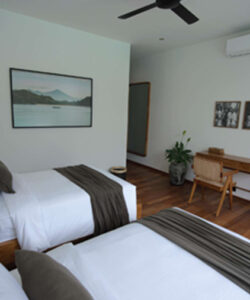 Shared Suites (2 Available)
For your comfort, the shared suites are equipped with 2 single beds of 120x200m (not small twin beds). The rooms come with a patio or balcony overlooking the gorgeous pool, working desk, waterfall shower, strong wi-fi, ceiling fan and air- conditioner.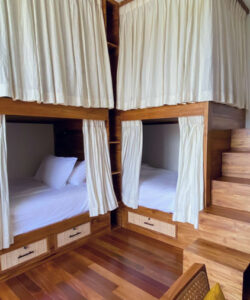 Quad Room (1 Available)
The teakwood bunk-bed room is specifically designed with 4 single beds of 120x200cm (not small twin beds) with each having lockable drawers, privacy curtains, personal universal outlet, and reading light. Inside the room you also have working desk, waterfall shower, individual closets, strong wi-fi, ceiling fan and air- conditioner.

Retreat Facilities
In addition to all of the scheduled Classes, Experiences and Excursions on the retreat, you can make use of the many facilities at our Oasis space.
Private Yoga Shala
Pool with Sundecks
Private Full Gym
Sauna and Ice Bath
Cinema
Recreation Areas
Amenities:
The beautiful pool area has a terrazzo beach area, for you to relax, read and catch some sun. This area is also surrounded by multiple day beds and pool loungers, perfect to relax on during your downtime on the retreat. You also have a fully equipped gym to use, as well as a private sauna and ice bath.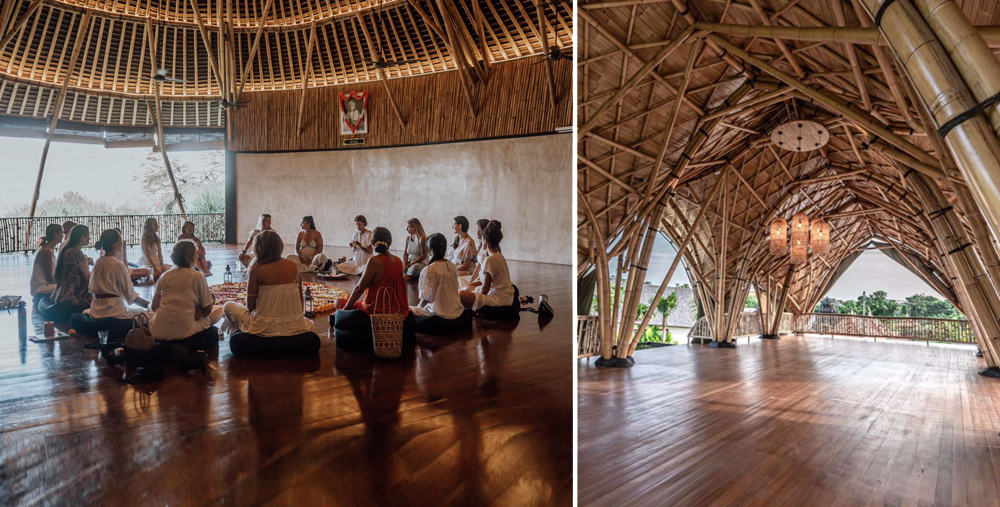 Retreat Highlights
Opening Circle with Traditional Balinese Cleansing Ceremony.
Two yoga classes per day – Traditional Tantric Hatha Yoga, Restorative Hatha 432htz and Yoga Nidra.
Lectures on Yogic and Ayurvedic Philosophy
Day trip to Sacred Temple for Purification and Blessings
Private Concert with Local Balinese Musicians
Cacao Ceremony and Women's Circle
Creative Workshops
Movie Night
Closing Ceremony
What's Included:
6 nights and 7 days at the wonderful Eco Resort in Canggu.
All scheduled yoga classes, workshops, excursion fees, activities for the duration of the retreat.
Two delicious home cooked meals per day – Full Breakfast and Dinner with Dessert.
Non Vegetarian and Vegetarian meals are available.
We can also cater for allergies and intolerances such as gluten free etc..
Daily Fresh Fruit, Filtered Water, Teas, Juices and Snacks.
Use of all leisure facilities at retreat – Gym, Sauna, Ice Bath, Badminton etc..
Use of all Yoga equipment (mats, blocks, bolsters).
75 min Balinese Massage.
Whats not included:
Flights
Transfers to and from Retreat, on check in and check out
Additional food or beverages ordered above what is provided by the retreat.
(You will be able to create your own additional bill for services, payable upon departure.)
During the retreat you will experience both the physical beauty of nature and the rich spiritual energy that is part of the Balinese way of life, combined with the transformative physical, mental and spiritual effects of daily yoga and wellness practices.
You will leave this retreat excited and equipped with the tools to explore and celebrate your womanhood, step deeper into your innate power and live a life filled with purpose, radiance and passion!!!!!!
Spaces on this retreat are limited, and it will book up fast! Don't miss out on the opportunity to join us here in Bali.
Book Your Place Now