By Keli Dierings
This is a conversation between Yoga and Sensitivity.
The more we practice Yoga, the more sensitive we become. We start to notice things with a greater level of detail, as if the present moment becomes more alive and vivid. Think as if we start to notice life and everything around us like we were watching it through a microscope – observing layers of multi-realities presented within the moments we are experiencing. Whether that be a physical sensation, a thought, an energy and vibration or moments fulfilled with 'coincidences', we are slowly open to feel more, see more and sense more.

Things that we can access initially often just in meditation, over time start to flood into our daily lives outside the Yoga mat. Watching nature, a smile, an eye gaze, etc… everything seems to be pulsating with a level of aliveness – it actually is! Tantra tells us there is a level of life force in everything! With Yoga, you become more attuned to that level.
Yet this greater level of awareness, as magical as it sounds, can also overload the senses, and make us overwhelmed with feelings. It is not a surprise that we or others start to go deep into Yoga practices, then at one point it feels like things are going crazier, as opposed to a more serene path. Sometimes, we question if this 'Yoga thing' is really working because instead of peace, we feel more overwhelmed. That is when we start to feel unable to handle suffering or life uncertainties…
As beautiful as this world is, we also must acknowledge that there is darkness in it: poverty, hunger, crime, violence. How can we live in this world, becoming more and more aware of the totality – and at the same time exist in a way that helps the healing of it, while also not becoming overburdened.
It has happened to me! It has happened to many students that I know of!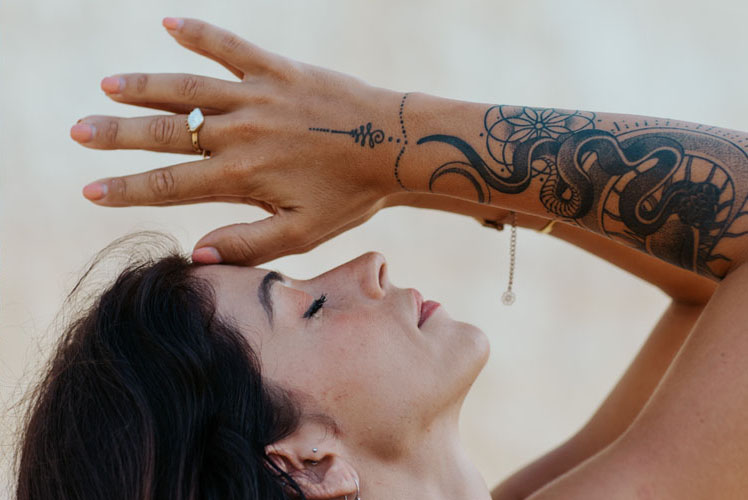 On sensitivity
I remember a couple times being asked to not be so sensitive. Well, that is not possible.
Firstly, being more sensitive is part of the process. When we 'switch on' the light, we are not able to switch it off anymore.
How could we possibly choose to go back to 'sleep' and become unaware?
Then, if we choose numbing practices like smoking, alcohol, or when we abuse the senses with loud music or sounds all the time, and even with lifeless food – we create a filter of perception which clouds our sensory systems.
Yoga asks us to stop numbing and welcome the fullest spectrum of life and all its feelings.
Yoga suggests sitting with what arises, without looking for distractions or escapism. The goal is to be able to do this and remain calm, so that all the information does not send the mind into a spin.
Here is the million-dollar question… How? How can we remain calm, spacious, and mentally stable with all the new presented info?
As we become more powerful with our Yoga practices and thus more sensitive, it is necessary that we:
Welcome stillness: Stillness is the foundation to understand deeper layers of the mind and its tendencies.
Practice Yoga in a non-competitive way. Rather than a muscular workout, which is more superficial, we turn Yoga inwards as a practice of self-knowledge: with pranayama & meditation and Svadhyaya (self-study).
Choose a balanced lifestyle, where we can simultaneously connect with people, not hiding from the world. The key is to be able to enjoy life without the need of numbing experiences or looking for distraction.
Don't rush into 'spiritual awakening' practices, let this be a gradual and slow process so that assimilation can happen.
Ultimately, we want to shine the light of awareness in everything in life. What initially might feel too much, or negative, can always be seen as information to be processed. We want to become more aware of the things that we previously could not notice, because that opens life to a richer and more meaningful experience. The key is to remember integration and time and space enough to re-adjust back to life.
It is like starting each day as if it were the first time you were to encounter it, with less judgements and more curiosity.
Practice with Keli online via The Practice Online.