By Adam Mahmoud
What I love about this Practice is its ability to create a shift in your state of being. You feel one way when starting a Practice and, in the end, you are completely transformed by it. I think everyone remembers the first time they had a Yoga class that woke them up to a feeling they've never experienced before.
However, the longer we practice the harder it can be to find the motivation to get on the mat or cushion. But at this time, it is essential to practice more.
At this moment in time our world is changing, the foundation of society is potentially crumbling. Covid-19, Black Lives Matter, domestic abuse, businesses closing, corruption, riots in the streets, wildfires, and global warming to mention a few… we just need aliens to top things off!
The greed and wealth imbalance has hit an unbearable high! If you'd asked most people before all this happened 'are you happy with the current global situation?' most would have said no.
As a global society, we have been using, indulging and taking too much from the world without giving back. We all asked for major change and here it is whether you like it or not. Now it's time for a radical transformation of our species.
Dealing with it all can seem to like an overwhelming task to bare or undertake but the solution is much closer to you than you think. If you want to create change in the world it must happen within you first, from the microcosm to the macrocosm. How? Through committed daily Practice.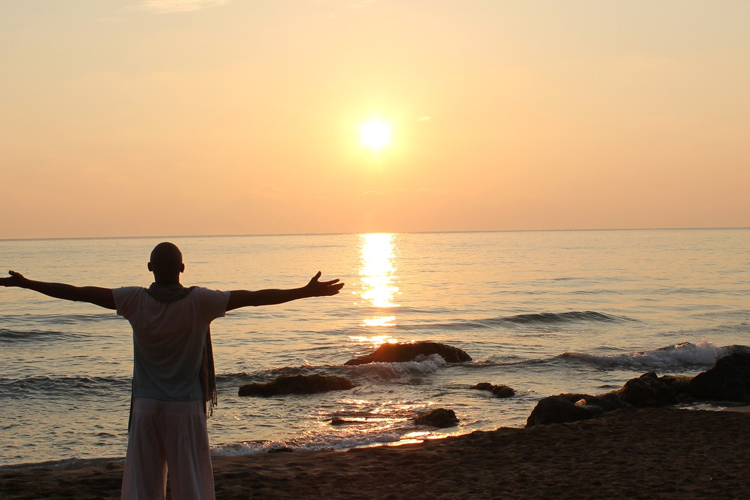 Mastering your inner states of being
The lesson here is that once you master your inner states of being you will be able to remain cantered and grounded no matter what happens to you in life. You are able to go from reacting to responding, from judgment to compassion.
When they were nailing Jesus Christ to the cross he was not blaming, or screaming for his life, He said "forgive them, father, for they know not what they do". That is the ultimate act of not letting your external world determine your internal state of being. Even at that moment, he was in such deep communion with the Purusha!
Remember we are all spiritual beings having a human experience
Whatever you are going through is an experience. Every day you experience millions of sounds and see countless colors. Be mindful of what you are consuming. Your news, social media, conversation, and who you spend time with… because all of these things become a part of you in some subtle way.
We don't just practice for one or two hours a day and the rest of the time we are unconscious of our mental fluctuations. We are constantly practicing off the mat as well so that when we do enter on our practice it's that much easier to meditate. Now is the time to take your Practice to the next level!
Practice with Enthusiasm!
"Enthusiasm is intense enjoyment, interest, or approval. The word was originally used to refer to a person possessed by God."
It is such a beautiful word, it has such an uplifting and passionate energy.
Being embodied is a gift!
Remember that life is short, we are only here for a brief moment in time. How about making the most of that time wisely! Master your energy, meditate at the heart, find your Dharma, and live your life to the fullest, in service to your teachers, the world, and humanity. Rod Stryker talks more about Dharma here.
What I love most about this practice is its depth! You are never done, there is always something to learn and more to practice. It's a ritual I perform every day to honor the divine within me all around me, to reconnect to the sacredness of all of life and her beauty. My goal as a yoga teacher is simple: to bring more love, kindness, and compassion into the world through sharing these teachings.
Take a life-transforming teacher training with The Practice in Bali in July to take your practice to the next level! Find out more about our 200hr YTT program here.