by Octavio Salvado.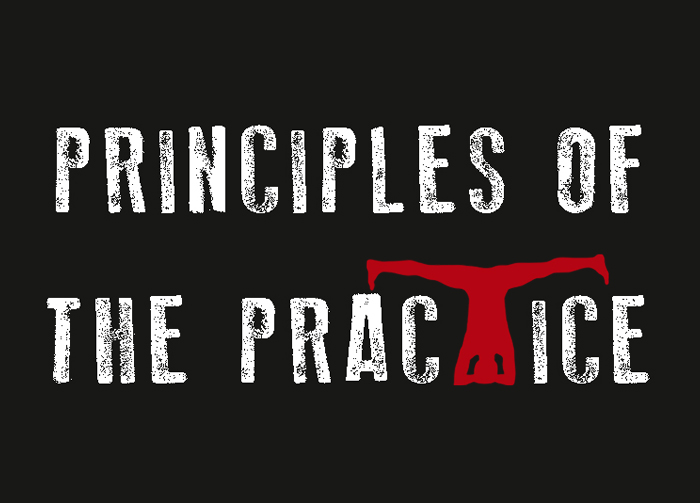 Life certainly looks complicated, just as physical reality certainly looks physical.
In both cases however, subscribing to these ideas simply indicates that Maya has you by the balls.
From the vantage point of Yoga, Maya is the concealing force that covers the truth of the way things are with an illusory veil. We don't like to admit it, but most of the time it's for our own damn good. Flashback to Arjuna, chapter 11 of the Bhagavad Gita who has his tender little mind blown after demanding that Krishna remove the curtain and gift him a vision of the Undifferentiated Absolute. It's too much for Arjuna, far too much at once. So Maya is a shield as much as a sheath, a blessing as much as a covering.
Regardless, the point is, things are rarely as they appear. Reality, as science is now proving is vibratory in nature and notphysical like we once believed. Likewise, life isn't, or doesn't have to be that complex either. It's just a case of simple mathematics, and whether we are talking about taking care of our health, nurturing our relationships or laying down the guiding principles to build a thriving business, there is only one meaningful equation to attend to and one final digit to arrive at – The number 9.
These are the secret teachings of the almost forgot science of Yantra Yoga. The peripheral science of Yantra deals with Mandalas and pretty pictures in sand, shimmering images on the backs of new-age T-shirts, yet underneath all that is a numerical code that holds the entire cosmos in place and governs every single aspect of our ordinary, everyday, absolutely incredible human lives.
Yantra is such a beautiful word, so potent in meaning. In Sanskrit, when a word ends in 'tra', as in man-tra, it is typically an indication that the thing itself has the capacity to protect. From one stand point, Mantra means 'mind protection', which is why it is considered a safe way to awaken our energy and peel back the layers of mind. Pranayama on the other hand, which does not end in 'tra', has a higher likelihood of disturbing the mind if not approached in the right way or facilitated by a skilled teacher.
Yantra is often translated as 'Holding Device', therefore, a holding device that protects reality from falling into chaos. Yantra is the mathematical blueprint behind everything, a combination of forces co-existing and inter-relating giving us the contextual field called life that allows us to play out our karmas and manifest our highest visions and sometimes our nightmares. When these forces are in balance, things naturally evolve towards the highest expression possible given the situation.
Personally, I am a product and student of Tradition. I love my teachers and likewise possess a deep gratitude for their teachers and the wisdom brought forward from some long-ago era of exquisite depth and understanding. The following is a map handed down to those who care to peer beyond the veil.
Simply stated, this universe and everything in it is governed by 9 fundamental forces. These forces run through life in every conceivable way, from the unfolding of our bodies on their journey from seed to death, to the orbits of planets as they hurl themselves around the Sun. Even our thoughts becoming words and then manifested realities move through an energetic flow chart which can be tracked from its source to its destiny along 9 single points.
Six of these forces have specific pooling points along the human spinal column where the nervous system bundles together into clusters called nerve ganglia. Here, they directly affect the way we show up in the world because they impact our glandular system and therefore the chemicals that get released into our bodies. When these forces are in balance, we are in balance, our beliefs, our thoughts, our words, our actions, our health, our relationships, our finances, our endeavors, everything. The system is protected, allowing it to thrive.
Forces 7, 8 and 9 are subtler and less tangible than the other 6 and although the essence of each can be found in everything, they have more to do with the contextual field through which the other 6 operate and co-mingle. In the Science of Tantra Yoga, forces 7,8 and 9 are considered 'higher' universal energies that exist outside the body, creating the stadium where the game of life can be played out.
To bring it down to the personal, right here in this moment, I am perched on the cusp of opening a community center for yoga and evolutionary learning on the Island of the Gods, Bali. To say that my wildest dream is coming alive before my eyes is a radical understatement. The game is ON. Therefore, to keep things balanced and protected I repeatedly turn my attention to the wisdom of the 9 forces; what the ancient Mayans referred to as the 9 Lords of Time and the Tantrikas understood as the energies of the Chakras. In this way I give the project every opportunity to flourish and follow its natural course, becoming the fullest expression of what I know it is capable of becoming.
A few days ago my Business mentor, Carl asked me to develop the 'Guiding Principles' of the business, the things that 'The Practice' will live and breathe by, so naturally I went straight to the underlying map of everything to construct a game plan.
Here they are, the guiding principles of The Practice Bali numbers 1 – 9. The first 6 relate more to our everyday operations and motivations, the final 3 are loftier, grander intentions. We may not post these on Facebook or paste them on the studio walls, yet you can count on them being there, as a part of the environment, as a part of the atmosphere that we breathe together.
1) Integrity. You can have confidence in the integrity of what we offer. We are dependable. The yoga system from which The Practice springs is connected to a lineage unbroken for thousands of years. Everything we do, from teaching yoga to cleaning floors will be infused with this same integrity and respectfulness.
2) Community. We are open-minded and community spirited. Our doors are wide open to everyone. Look forward to free Community classes and regular events beyond the yoga schedule that bring people together to share ideas, laughter, music and more.
3) Leadership. We strive to be positive role models within the local and global communities. We are leaders in the field, risk takers, freedom lovers, doers that make shit happen. We want to contribute to raising the bar in regards to practice and teaching standards worldwide.
4) Service. The currents of compassion and generosity will carry us out into the world. We are here to serve. Community outreach programs and charity events will be a focus.
5) Studentship. We are progressive because we are always learning and growing, never satisfied that we have all the answers. We are humble truth seekers and transparent truth speakers, no bullshit, no fluff. We own our flaws and strive for growth in all areas.
6) Mindfulness. Bringing both perspective and awareness to everything we do. At all times we endeavor to respond from our highest place, where our hearts and our minds connect.
7) Harmony. Within our self, with each other, with the local Balinese community, with the environment, with the planet, we work towards sustainable, harmonic relationships in every way.
8) Gratitude. We recognize the incredible privilege that it is to be here – to have these bodies, to have these lives, these finances, the gift of yoga, all of our teachers and the opportunity to serve and make a difference in the world. Every moment we are giving thanks for these opportunities and gifts.
9) Universal Trust. We surrender. We trust that we are here for a purpose and that we are guided along the way. We trust in our own and each other's capacities and when things get challenging, our trust in the universe will keep us positive, calm, grateful and in harmony with ourselves and all those around us.
These principles will be our measurements. They represent both our support beams and our guiding lights as we bring forth our vision into the world, keeping it safe as it blooms open towards fruition.
There is nothing new here, as Carl says, "No point reinventing the wheel," because after all, there is only one system to govern everything, our business lives, our personal lives, our spiritual lives, everything. This is why you can affect your kidneys by pressing parts of your foot, or points on the lobes of your ears. Everything that exists in one place, must as a byproduct of reality, also exists and be accessible in all other places. Like a child's 'color by numbers' activity book, all we have to do is learn the codes, grab the markers and create our own picture of beauty, because the reality is, life was always meant to be that way.
Beautiful.