JOIN THE LIFE MASTERCLASS AND DISCOVER HOW TO BUILD THE LIFE YOU ALWAYS DREAMED OF
Online Life Masterclass Seminar
27 – 29 November 2020
Includes 10 x 60-min LIVE Q&A Coaching Sessions!
To claim a special 20% DISCOUNT enter the Coupon Code – THEPRACTICE once you book below
The Possibility
This immersion experience, in a very general sense, is about processing the past (which is holding you back from your greatness), getting clarity of your most desired future and learning how to optimizing the present to become more centered, grounded, effective, energized and powerful. Plus you will discover the Success Habits of the high performers.

When you focus on these three things (and do the right work in the right way) you take your life up to a WHOLE NEW LEVEL.
A new level of ABUNDANCE.
A new level of VITALITY.
A new level of SUCCESS.
A new level of SELF LOVE.
A new level in your RELATIONSHIPS

Imagine stepping into 2021 with a sense of calmness, a deep sense of connection, feeling centred and with a much higher level of clarity than you are experiencing now.
Immerse Yourself in Project You!
Make the Impossible Possible.
Meet and Hang Out with Amazing People (and Future besties) at The Event
You will meet and connect with some AMAZING people at this event.
The quality of the people we surround ourselves with has a HUGE impact on the results we get plus also the joy we experience. Plus you will get the right support you need to keep the momentum going.
There will be a closed group hanging out at www.MeWe.com, which is a new social media platform that is big on personal privacy – so it is our preferred choice for open and honest conversations.
Plus in all the (Zoom) Q&A Coaching Sessions there will be small group break-outs, so you can meet your fellow participants who are leveling up in life.
Some of the Main Benefits
Process your most disempowering and limiting beliefs with NLP techniques to liberate energy and to become unstoppable
Get crystal clear on what your purpose is and your most desired goals
Learn how to increase your powers to create and manifest your goals
Increase your ability to remain calm and centred through your day
Learn how to process your emotions more effectively
Discover the Success Habits of the high performers
Get 100% about what might be holding you back
Increase your self love.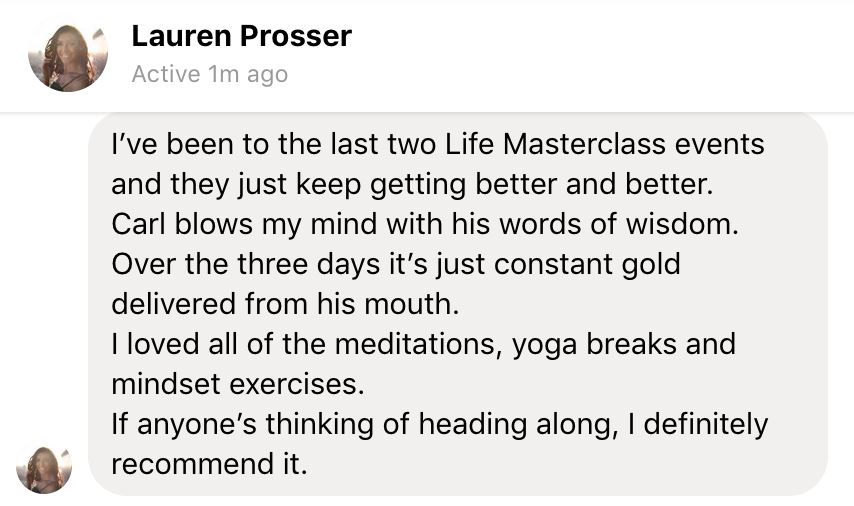 Now the 'How'
The ONLINE Event will happen 27 – 29 November 2020
There will be LIVE Q&A Coaching Sessions throughout the weekend + 2 x Follow-up Q&A Coaching Sessions
DAY 1 (Friday 27 November)
Life at the Next Level | Success Habits: Morning Rituals | Powerful Guided Meditation
Q&A Coaching Session: 5PM (Bali time)
DAY 2 (Saturday 28 November)
High Performance Morning Rituals (Guided Self Practice) | Processing Your Core Limiting Beliefs (Code to Joy Technique) | Getting Clarity on Your Future Path | Goal Setting Workshop | The 6 Pillars to Optimum Health | Guided Meditation
Q&A Coaching Session 1: 9AM (Bali time)
Q&A Coaching Session 2: 5PM (Bali time)
DAY 3 (Sunday 29 November)
High Performance Morning Rituals (Guided Self Practice) | Obstacles on the Path | Getting Clear of your Values | Optimizing Your Days | A Conversation on Relationships | Implanting the Next Level & Next Steps
Q&A Coaching Session 1: 9AM (Bali time)
Q&A Coaching Session 2: 5PM (Bali time)
Q&A Coaching Session 3: 9AM (Bali time) on 30 Nov
FOLLOW-UP Q&A SESSIONS
Q&A Session 1: 4 December @ 9AM & 5PM (Bali Time)
Q&A Session 2: 18 December @ 9AM & 5PM (Bali Time)
Timezone Converter

Note: You will also have full online access to all the content for 12-months!
Praises from Past Participants
"I wanted to say a big thank you for the Masterclass Workshop. It was fun, informative, challenging, motivating and really worthwhile to help me focus and refine where I'm at. Much appreciated and thank you." Phillippa, Coach, England.

"I confess I have a bit of a gag reflex to the energetics of most Life Coaches, and if this is your story too, then Carl Massy is your guy. Carl is the real deal with a joyful and sovereign mastery of his craft. Carl is more than a life coach and consultant. He is a surgeon – and he will help you cut to the bone of what no longer serves your story." Parker Johnson, USA

"The Code to Joy exercise was something I particularly found beneficial as it related to negative thought patterns in my life that I've struggled with for some time. Being made aware of this pattern and then provided with some easy exercises to address it was a great realisation for me. Given that we did this three times stuck in my mind over any other exercises. Carl is natural in terms of presentation, speaking clearly and effectively. Carl cleverly put together all the pieces of the puzzle with his holistic approach to life coaching and well being. The workshop was engaging and fun and that's a lot to do with Carl's approachable, bubbly and enthusiastic personality. Exceeded expectations and it was great value for money. I would definitely attend another workshop of Carl's and highly recommend them to friends. " Holly Rudge, Singapore.

"2016 was a practically difficult year for me, I was working a job that was effecting my health and relationships. After I quit my job and was looking for work when my friend reached out to me and invited me to attend a Master Class by Carl Massy. He told me that Carl had really helped him to make positive changes in his life. When I met Carl, he made me feel instantly comfortable and relaxed, the day was filled with so many techniques that I now use every day. Since meeting Carl three months ago I am writing a children's book series about acceptance of others and social differences, I have been accepted into a top Fashion course in London, I'm interning for Nicholas Kirkwood in London for a month, I starting a new business aimed to help start-ups in Melbourne and my relationships are stronger than they have ever been. Carl is absolutely inspiring and a life saver. If you ever have the chance to attend Carl Massy's Master Class make it a priority as it is a life investment, you won't regret it!" Zoe Clark, Melbourne.
Meet Carl Massy, Your New Teacher, Strategist and Coach
I am the author of 4 books (and writing number 5); a Success Coach for over 13 years, a strategist and teacher who is passionate about seeing people evolve into fuller expressions of their unique selves, while being true co-creators in their lives. I have been an Australian Army Major, a security consultant to four Olympic Games, a personal fitness trainer, a corporate wellness trainer (Chevron, Exxon, Swire Group, etc.), a keynote speaker, and a former co-owner of The Practice yoga centre (Bali).

I have had the pleasure of coaching gold medalist Olympians, actors, multimillionaires, UN workers, CEO's, business owners, entrepreneurs, world record holders, coaches, single mums and elite athletes to world championship titles. And I have been running LIFE MASTERCLASS events for over 4 years now in Bali, Australia, and Europe. It is my favourite event to run all year! To download a PDF sample of my books click below.
The Guidebook to Happiness
The Guidebook to Optimum Health
The Guidebook to Authentic Success
PURCHASE YOUR TICKETS FOR THE ONLINE LIFE MASTERCLASS
Registration closes on 26 November 2020
To claim a special 20% DISCOUNT enter the Coupon Code – THEPRACTICE once you book below
Investment: US$ 247
100% Money Back Guarantee.Yes. You read that right.
I am so confident you will get a lot out of the Life Masterclass that I will give you back the full amount of the ticket if you get to the end of the weekend (having played full on) and you decide that it was not worth what you paid for it. You can make a claim up to 7 days after the start of Day 1.